Destinations with connections to Split Airport (SPU)
Flights, Arrivals & Departures at Split Airport
| Origin | Airline | Flight no. | Scheduled | Est./Actual | Status |
| --- | --- | --- | --- | --- | --- |
| Rijeka (RJK) | SprintAir | C3821 expand_more(1) | 11:40 | | Scheduled |
| Rijeka (RJK) | Croatia Airlines | OU5258 | 11:40 | | Scheduled |
| Frankfurt (FRA) | Croatia Airlines | OU413 expand_more(8) | 13:40 | | Scheduled |
| Frankfurt (FRA) | Air Canada | AC2973 | 13:40 | | Scheduled |
| Frankfurt (FRA) | Air India | AI7513 | 13:40 | | Scheduled |
| Frankfurt (FRA) | Asiana Airlines | OZ9379 | 13:40 | | Scheduled |
| Frankfurt (FRA) | LOT | LO4303 | 13:40 | | Scheduled |
| Frankfurt (FRA) | Lufthansa | LH6004 | 13:40 | | Scheduled |
| Frankfurt (FRA) | SAS | SK9303 | 13:40 | | Scheduled |
| Frankfurt (FRA) | Singapore Airlines | SQ2425 | 13:40 | | Scheduled |
| Frankfurt (FRA) | United Airlines | UA7260 | 13:40 | | Scheduled |
| Dubrovnik (DBV) | SprintAir | C3822 expand_more(1) | 14:15 | | Scheduled |
| Dubrovnik (DBV) | Croatia Airlines | OU5259 | 14:15 | | Scheduled |
| Munich (MUC) | Croatia Airlines | OU4439 expand_more(6) | 15:20 | | Delayed |
| Munich (MUC) | Air Canada | AC2999 | 15:20 | | Delayed |
| Munich (MUC) | LOT | LO4305 | 15:20 | | Scheduled |
| Munich (MUC) | Lufthansa | LH5992 | 15:20 | | Delayed |
| Munich (MUC) | Singapore Airlines | SQ2421 | 15:20 | | Delayed |
| Munich (MUC) | TAP Air Portugal | TP6869 | 15:20 | | Delayed |
| Munich (MUC) | United Airlines | UA7262 | 15:20 | | Delayed |
| Zagreb (ZAG) | Croatia Airlines | OU380 expand_more(3) | 15:25 | | Scheduled |
| Zagreb (ZAG) | Austrian Airlines | OS8411 | 15:25 | | Scheduled |
| Zagreb (ZAG) | ITA Airways | AZ7019 | 15:25 | | Scheduled |
| Zagreb (ZAG) | Lufthansa | LH5976 | 15:25 | | Scheduled |
| Zagreb (ZAG) | Croatia Airlines | OU654 expand_more(2) | 15:50 | | Scheduled |
| Zagreb (ZAG) | Austrian Airlines | OS8415 | 15:50 | | Scheduled |
| Zagreb (ZAG) | Lufthansa | LH5974 | 15:50 | | Scheduled |
| Rome (FCO) | Croatia Airlines | OU381 expand_more(2) | 19:10 | | Scheduled |
| Rome (FCO) | ITA Airways | AZ7020 | 19:10 | | Scheduled |
| Rome (FCO) | TAP Air Portugal | TP6875 | 19:10 | | Scheduled |
| Zagreb (ZAG) | Croatia Airlines | OU656 expand_more(3) | 22:00 | | Scheduled |
| Zagreb (ZAG) | Austrian Airlines | OS8409 | 22:00 | | Scheduled |
| Zagreb (ZAG) | LOT | LO4301 | 22:00 | | Scheduled |
| Zagreb (ZAG) | Turkish Airlines | TK8038 | 22:00 | | Scheduled |
| Destination | Airline | Flight no. | Scheduled | Est./Actual | Status |
| --- | --- | --- | --- | --- | --- |
| Zagreb (ZAG) | Croatia Airlines | OU651 expand_more(2) | 06:50 | | Scheduled |
| Zagreb (ZAG) | Austrian Airlines | OS8412 | 06:50 | | Scheduled |
| Zagreb (ZAG) | Turkish Airlines | TK8045 | 06:50 | | Scheduled |
| Munich (MUC) | Croatia Airlines | OU4438 expand_more(6) | 07:30 | | Scheduled |
| Munich (MUC) | Air Canada | AC2998 | 07:30 | | Scheduled |
| Munich (MUC) | LOT | LO4306 | 07:30 | | Scheduled |
| Munich (MUC) | Lufthansa | LH5993 | 07:30 | | Scheduled |
| Munich (MUC) | Singapore Airlines | SQ2420 | 07:30 | | Scheduled |
| Munich (MUC) | TAP Air Portugal | TP6871 | 07:30 | | Scheduled |
| Munich (MUC) | United Airlines | UA7261 | 07:30 | | Scheduled |
| Dubrovnik (DBV) | SprintAir | C3821 expand_more(1) | 12:10 | | Scheduled |
| Dubrovnik (DBV) | Croatia Airlines | OU5258 | 12:10 | | Scheduled |
| Frankfurt (FRA) | Croatia Airlines | OU412 expand_more(7) | 14:40 | | Scheduled |
| Frankfurt (FRA) | Air India | AI7512 | 14:40 | | Scheduled |
| Frankfurt (FRA) | Asiana Airlines | OZ9380 | 14:40 | | Scheduled |
| Frankfurt (FRA) | LOT | LO4304 | 14:40 | | Scheduled |
| Frankfurt (FRA) | Lufthansa | LH6005 | 14:40 | | Scheduled |
| Frankfurt (FRA) | SAS | SK9302 | 14:40 | | Scheduled |
| Frankfurt (FRA) | Singapore Airlines | SQ2424 | 14:40 | | Scheduled |
| Frankfurt (FRA) | TAP Air Portugal | TP6870 | 14:40 | | Scheduled |
| Rijeka (RJK) | SprintAir | C3822 expand_more(1) | 14:45 | | Scheduled |
| Rijeka (RJK) | Croatia Airlines | OU5259 | 14:45 | | Scheduled |
| Rome (FCO) | Croatia Airlines | OU380 expand_more(2) | 16:05 | | Scheduled |
| Rome (FCO) | ITA Airways | AZ7019 | 16:05 | | Scheduled |
| Rome (FCO) | TAP Air Portugal | TP6874 | 16:05 | | Scheduled |
| Zagreb (ZAG) | Croatia Airlines | OU655 expand_more(3) | 16:10 | | Scheduled |
| Zagreb (ZAG) | Austrian Airlines | OS8410 | 16:10 | | Scheduled |
| Zagreb (ZAG) | LOT | LO4302 | 16:10 | | Scheduled |
| Zagreb (ZAG) | Turkish Airlines | TK8037 | 16:10 | | Scheduled |
| Zagreb (ZAG) | Croatia Airlines | OU381 expand_more(1) | 19:50 | | Scheduled |
| Zagreb (ZAG) | ITA Airways | AZ7020 | 19:50 | | Scheduled |
Flying To and From Split Airport
This page provides information about the destinations that can be reached via Split Airport.
Was your flight delayed or cancelled?
You may be eligible to receive up to 600 EUR compensation per person in your party..
Claim Now!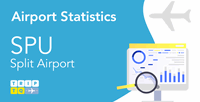 In August 2023, Split Airport saw a 1% increase in passenger numbers compared to the same month in 2019, a pre-pandemic benchmark.