Split Airport Departures (SPU)
Not all flights may be showing. If not available use search above to find your flight by airline, airport or flight number.
Destination
Airline
Flight no.
Scheduled
Est./Actual
Status
Zagreb (ZAG)
Croatia Airlines
OU381 expand_more(1)
07:50
Scheduled
Zagreb (ZAG)
ITA Airways
AZ7020
07:50
Scheduled
No flight departures were found at Split Airport.
Flight Departures at Split Airport
At Split Airport visitors can find a small offering of dining options and a few shops within the airport terminal. All visitors can also enjoy special services at the airport, including ATMs, currency exchange, duty-free shopping options, baby care facilities, and free Wi-Fi connection. 
Shops and Restaurants at Split Airport
Split Airport offers four different dining opportunities for all passengers, which are Kupola Restaurant, Ikar Restaurant, North Coffee Bar, and South Bistro. Here you can enjoy everything from traditional Croatian cushions to delicious desserts and good coffee.
Passengers will also find one main shop available at Split Airport. This is the airport's mini market which is located on the passenger terminal ground floor. Here travelers can find a vast choice of gifts, authentic Croatian souvenirs, newspapers, perfumes, drinks, cosmetics, and snacks. The shop's working hours are matched with the airport working hours which are from 6:00 am to 10:00 pm. In addition, passengers traveling abroad can visit the Duty-Free shops, which are located on the 1st floor. You can find more information about the Duty-Free shop at Split Airport here.
Free Wi-Fi Connection at Split Airport
At Split Airport, passengers can get access to a free Wi-Fi connection for up to 1 hour every day. Visitors will find coverage within most of the airport passenger terminal area.
For visitors to get online, you simply have to select the airport's Wi-Fi connection once you are at the airport. Then you will have to launch a web browser on your device where you will visit the welcome page. Then follow the instructions on the screen. A successful authorization message will be displayed and then you are ready to surf the web.
Split Airport Parking
All visitors at SPU Airport can find easy and convenient parking facilities at Split Airport. The different parking areas at the airport provide travelers direct access to the airport terminal within a short time. The convenient location can help passengers save time before their next flight, or if they are going to pick up or drop off a passenger. 
Upon arrival at the airport, all passengers will find an extensive parking area with up to 900 parking spaces. The parking area is placed opposite the airport building and can be reached using the pedestrian bridge. Designated disabled parking is available opposite the terminal entrance. 
Main Parking Area
The main parking area at the airport holds 900 parking spaces. Here you can get a comfortable parking solution close to the main terminal building.
Handicapped Parking
People with reduced mobility will find that Split Airport offers parking spaces available for people with disabilities.
Getting to and from Split Airport
Split Airport is located approximately 12 miles/19 km from the city center of Split, on the west side of Kaštela Bay.
Passengers traveling to and from Split Airport can find simple and comfortable transfer opportunities, including:
Was your flight delayed or cancelled?
You may be eligible to receive up to 600 EUR compensation per person in your party..
Claim Now!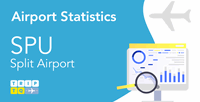 In August 2023, Split Airport saw a 1% increase in passenger numbers compared to the same month in 2019, a pre-pandemic benchmark.