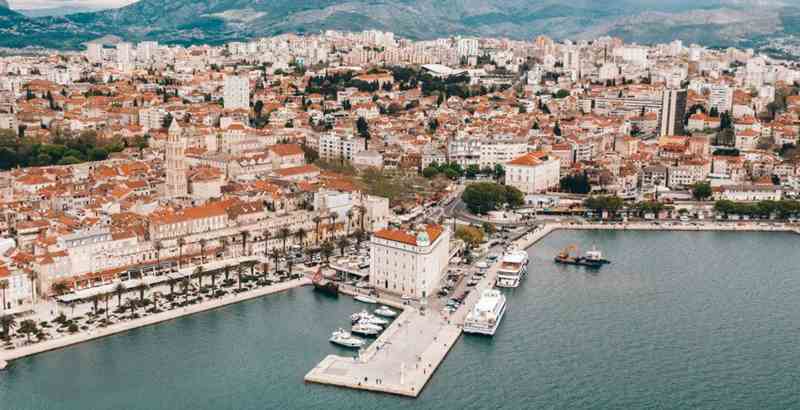 Tourist Attractions in Split, Croatia
Once passengers arrive at Split Airport in Croatia they are only a short drive away from many amazing places to discover and beautiful attractions to explore. Croatia is an interesting country where you can experience many beautiful, fun, interesting and historical tours.
Below we have gathered a fine selection of recommended tours for you and your travel companion(s) in and around Split. We hope you will be inspired to go on some memorable, fun, inspiring, and wonderful tours.
Split: 2-Hour Private Walking Tour
Is it your first time in Split in Croatia? If so, we highly recommend you and your travel companions to go on this private tour "Split: 2-Hour Private Walking Tour". Then you will get the chance to discover all the amazing and interesting sights and places the city has to offer.
On this tour, you will get two hours to discover the old city that has developed within and around sights such as the cathedral of St Domnius, the Diocletian's Palace, originally the mausoleum of Diocletian, People's square, and the well preserved Diocletian's Cellars.
Split is a 1700-year-old town that is actually a part of UNESCO's world heritage. It is the main urban, cultural, and traffic center of Dalmatia. The city holds numerous archaeological, historical, and cultural monuments. One of them is the famous Diocletian's palace. If you go to Split you will soon discover that the city is full of cultural life and entertainment. During the summer Split becomes a big stage under the clear sky, with all its shops, yards, and other beautiful places.
Once you have met with your guide, you will be walking through the historical part of the town. Diocletian's palace is well known as the heart of the city and is today a part of UNESCO world heritage. You will also get to visit the well-preserved cellars of Diocletian's Palace whose architectural purpose was to raise the imperial residential area on the upper floor. Did you know that the cellars of Diocletian's Palace were also a filming location for "Game of Thrones"?
Following, you will walk up the stairs to Peristil, which was meant to be used by Diocletian and the cult of the living son of Jupiter. You will also get to see this temple. Next, you will be presented to the cathedral of St. Duje, originally the mausoleum of Diocletian. It is said that it is the oldest Cathedral in the World. Close to Diocletian's Palace is the wonderful medieval part of the city which includes the People's square - also known as Pjaca. The two-hour walking tour will end in Riva, which is the beautiful waterfront with plenty of restaurants and cafes.
This will be an excellent way to discover everything Split has to offer.
Split: Quad Bike Family Tour with Picnic Lunch
Another fun and alternative way to explore the beautiful Dalmatian hinterland and untouched nature is on an ATV Quad Bike, on this wild tour.
The tour is tailored so it can fit all ages, especially for beginners that have no previous experience with ATV Quad vehicles. Here you can enjoy 2.5 hours driving through 40 kilometers of endless fields on the Cetina border. Get ready to get in touch with your "wild side".
Upon arrival, you will be welcomed by experienced guides with years of driving ATV quads. Here you will learn everything you need to know about the ATV Quad bike vehicles. The good thing is, that the vehicles take limited training before you are ready for departure. Your guide will lead you through the hidden paths and trails, the River's canyon, and beautiful fields. During the tour, there will be several stops at some of the many stunning locations.
This is a great tour for true nature lovers who want to enjoy the beautiful landscape and the crystal clear Cetina River. The river is the cleanest and longest river in the area. After the two and a half hours drive through the endless fields along the Cetina border, you get the opportunity to refresh yourself with a swim in the Cetina River.
The tour will end with a homemade meal prepared with local groceries. Here you will sit alongside the calm part of the Cetina River with an amazing view to conclude your day.
So get ready for a memorable tour, with an experienced licensed tour guide who will lead you through the hidden paths and trails
Deluxe Blue Cave Tour: Grilled Lunch and Early Entry Tickets
Would you like to explore the Blue Cave while at the same time get luxury treatment? Then you should spoil yourself with this unique tour.
This tour is one of the most complete boat day tours from Split, as it lasts for more than 10 hours and includes almost everything, including admission fees, grilled lunch, cave tour, and tasty drinks.
The tour is for everyone who would like to discover some amazing sights, swim, and snorkel in pristine waters, and who would like to taste the real homemade local cuisine.
The tour starts at 7:15 am, to ensure to get a head start before other tour groups. Once everybody is seated you will be going towards the Blue Cave. At the Blue Cave, you are taken inside with small fishermen's boats for a sightseeing tour.
Once you have been amazed by the Blue Cave, the tour continues to a visit to the Komiža town on Vis island. This is the most beautiful fishermen's village in the Mediterranean. Here you can get a cup of coffee and go for a swim if you would like. Your next stop will be Budikovac island's Blue Lagoon where you have more free time. Here you have the opportunity to use the provided snorkeling gear and towels.
Following this, you will go to a private bay on Vis island, Milna, where you will be served a freshly grilled lunch. This will be followed by coffee and ice cream. You can also take a swim if you feel for it. Finally, you will visit Hvar town, where you have around 2 hours to relax and explore on your own before heading back to Split.
This will without a doubt be a tour you will remember for a long time afterwards.
From Split and Trogir: Krka Waterfalls Private Tour from Split and Trogir
On this tour "Krka Waterfalls Private Tour from Split and Trogir" you have the chance to enjoy a worthwhile and relaxing excursion to the Krka Waterfalls National Park. Furthermore, you will get to experience one of the most beautiful natural phenomena in the world and swim in the river. You will stop in Šibenik and marvel at the UNESCO-listed Dalmatian cathedral. So, get ready to go on a full-day tour by minivan to the Krka National Park and walk around the lakes and cascades at your own pace.
You will be heading to the national park in a minivan with your experienced guide. However, before you get there, you will make a stop in Šibenik to visit one of the most exquisite architectural masterpieces in Dalmatia, which is the UNESCO-listed Cathedral of St. James. Once you have seen what you need to see, your tour will continue with a short drive to the entrance of Krka National Park. At the park, get ready to be overwhelmed with the dazzling untouched nature that river Krka has carved into the landscape over the centuries.
Here you can explore 142 square kilometers of natural beauty. This will for sure help relax your mind and body. You will admire the natural, cultural, and historical heritage in this protected area. You also get the chance to walk through a network of forest pathways in Skradinski Buk and take in the breathtaking scenery. If you would like, you can taste local cuisine in a Dalmatian restaurant by the river or walk around and take memorable photos of the spectacular surroundings. The tour also provides you with the opportunity to swim in the river beneath one of the most beautiful natural phenomena in the world.
So get ready for one of the most beautiful and relaxing tours from Split.
From Split: All-Inclusive Horse Riding and Jeep Exploration
If you are a true horse lover do not miss the chance to get on this wonderful tour; "From Split: All-Inclusive Horse Riding and Jeep Exploration". You will be able to enjoy a full-day tour of horse riding near the Cetina River with a certified riding instructor. The tour on horseback will be followed by seeing the hidden beauty of the Dalmatian Hinterland by jeep. You will get to see the most beautiful places in this area such as Dinara mountain and Peruća Lake.
This is a real adventure that starts as your guide picks you up from your accommodation. At the start of the tour, you will enjoy a short jeep ride to the equestrian club. Here you will get a short introduction, and then you are ready to show your riding skills. Riding will be organized near the Cetina River, while accompanied by certified riding instructors.
Once your horseback riding tour is over, continue to the very center of Sinj and its majestic Kamičak Fort. This is known as one of the most scenic and memorable symbols of the town. Here you will have the chance to enjoy some free time to drink a coffee in one of the many local cafes on Sinj promenade.
This will be followed by a delicious traditional meal at a local tavern not far from Sinj. Once everybody is recharged and filled with food and drinks, the jeep exploration will begin. Get ready for some amazing sights, which include the Cetina River canyon, Dinara mountain, the beautiful Dabar Bay, and Peruća Lake, which is the third-largest lake in Croatia.
During the tour, there will be several stops to take some memorable photos, so you will be able to remember the tour for a long time.
UNBEATABLE VALUE CAR RENTAL

FREE
Amendments,
FREE
Cancellations,
NO
card fees!

airport_shuttle Need Airport Transfers?
Useful Information about Split Airport